New Softball Stadium A Home Run for Tartars
Team Undefeated at New Home this Season
On a windy Tuesday afternoon, I went to check out the new field for my first time, as well as catching a good part of the game. 
It didn't take long to go from my parked car across the street to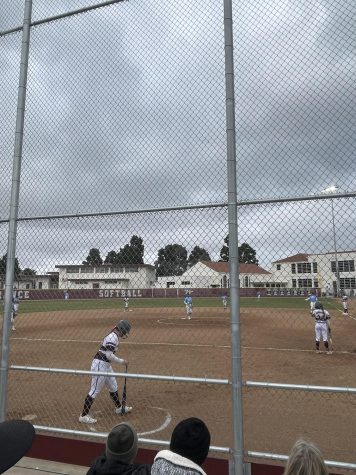 find a place to sit on the bleachers. For other students at Torrance High, it's less than a 5 minute walk from class to the field once school ends.
The new softball field on campus–Don Lee Field–has been the site of a handful of softball games already this season. The field is easy to access from campus and was the place of the softball's latest game vs Carson.
"It's really exciting," said Mr. Glavich. "To finally have a field that we can play on without having to leave campus. It's a really nice field and a really nice complex, so everyone is really excited about it."
Unfortunately, the concession stand wasn't open for the game, so I couldn't grab a bite to eat (but I will report back when it is!). That didn't take away from the overall experience at the game. The newly built field–which has many accessories around it such as new dugouts, snack bar, bathrooms, and batting cages–is a very well put together complex. Small but comfortable, the field had a great sound system, lights, stands, and dugouts for players and fans.
The biggest upgrade that this complex holds is the location. The fact that it's on campus where it's easy to access and that it feels very much at home makes the complex a well designed place. 
Carson took the lead early with a home run in the first inning. It took the second inning for the Tartars to wake up, but they did in style, scoring 10 runs in innings 2 and 3. 
Torrance scored 11 unanswered runs before Carson got two runs back, putting the score at 11-5 entering the bottom of the 6th. The Tartars would go on to win 12-5 and stay undefeated after four games played this season. 
Don Lee Field has become a fortress for the team so far this season, as the Tartars stand at a 4-0 record with all wins coming at home. They have scored 45 runs in the four games, winning each game by at least seven points.
After narrowly missing out on the CIF Regional Championship last year, the Tartars hope for another successful season with the edition of the new complex.
"We're up in division 1 now, so the competition is a little more stiff, and our league is always a tough league," Mr. Glavich continued. "We're looking forward to the challenge and trying to compete in this higher level this year."