Marching to Victory
Torrance High Band and Colorguard won a third place at the Ayala Music in Motion Tournament also winning high percussion and high auxiliary awards. This was their first competition of the Marching season. 
These high percussion awards and high auxiliary awards, are caption awards awarded to the band that presented an outstanding performance in a specific category. Each judge in each category chooses the school which performed at the best quality in their category. For example the percussion judge chooses the best school in the percussion section. 
Mr. Carlos Anwandter, the band director, said he was really proud of the group: "We worked very hard to build consistency and confidence, and it showed in a solid performance. I'm looking forward to finishing the show and seeing how much we can grow as a group."
Drum Major, Mio Ouchi was also excited about the results: "I was impressed and honestly shocked about the results of the first competition. The first one is always understanding logistics and building a routine for competitions, not so much scoring and placement, but despite that, we were able to place fairly high. Personally, it was very different for me because this time I was on the podium conducting compared to previous seasons where I was on the field. However, I am honored to be this year's drum major and be able to lead this group to success. Every single person has so much potential and I can not wait to see their growth by the end of the season or even the end of their high school career. I would like to end the season with no regrets and just have fun — but I would also love to win first place one day
The Marching season ends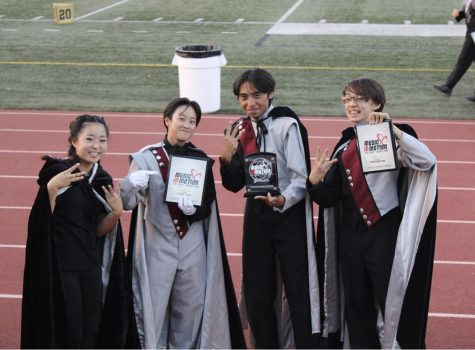 this weekend.  On Saturday they will compete in the semifinals of the Western Band Association.  A good performance there will get them to the finals on Sunday.