Howdy, Tartars!
Tartars celebrate first dance of the year and first indoor dance since the pandemic.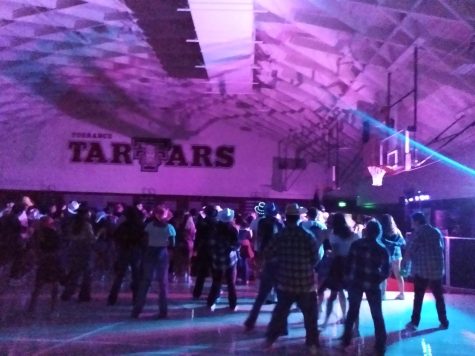 After cheering the football team from the stands in the rain, students ran for shelter in the gym, where the real party started. And as Junior Xavier Quiroz said after the dance "It was a very fun, best night!"
The dance started off with very few Tatars since most were still at Zamperini watching the last riveting moments of the game. Soon though, the tempo of the music matched that of the crowd as students began piling in. 
Despite the dance being country themed, not many country songs were blasted through the speakers. However, what the music lacked in theme, it more than made up for in volume and rhythm. Students were rocking out to "Shut Up and Dance with Me" by Walk the Moon, "Party in the USA" by Miley Cyrus, and "Starships" by Nicki Minaj. 
Students' attire stayed true to the Howdy Dance, filling the gym with a colorful array of flannel. Cowboy hats were thrown in the air, and boots were stomping to the beat of songs. Although there was no line dancing, everyone quickly got into formation for the "Cupid Shuffle, moving to the right and the left in perfect unison. Partners were found to swing "round and round" for Ke$ha's "Timber", and girls were twirled to Doja Cat's "Best Friend."
Lyrics were screamed, off pitch and full of jubilation, to songs like "As it Was" by Harry Styles. "I lost my voice, but that's fine," said sophomore Kate Kondo afterwards. 
Friends were found, and a dance circle was formed in front of the DJ. With lights flashing and students cheering, the night ended on a high note with LMAFO's "Party Rock Anthem". 
After that, the blinding overhead lights of the gym were turned on and the party was declared over. With songs stuck in their heads and camera rolls filled with pictures, students staggered home in the drizzling rain: a perfect start to the weekend. 
"
"It was a very fun, best night!" "
— Xavier Quiroz